It has been an eventful tournament so far in Brazil which compels me to write about the second wave of games, that actually completes today with:
Belgium vs Russia
S.Korea vs Algeria
USA vs Portugal
There have been some controversial decisions as usual, the first set of draws, Klose being tied for World Cup top scorer and some unexpected results i enjoyed witnessing!
Both Klose and Ronaldo are tied at 15 goals and the former hopes to break this record.
Brazil - Mexico (0-0): In the second game the men start to be separated from the boys. Brazil, a team branded and touted as real favorites have flattered to deceive so far. Controversial win vs Croatia, lacklustre display vs Mexico. The result? An entertaining scoreless draw.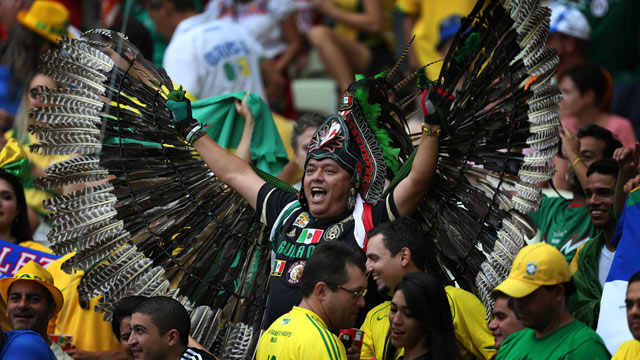 Rise of the Vulture. Gotta love Pendulum!
Brazil need a push to do something great in this tournament, because so far they do not seem like genuine contenders. That does not mean that you have to write them off of course! Their wingbacks seemed vulnerable and Alves a little clueless. Also man, that haircut..
Once more they relied on the brilliance of Neymar who was well closed by the battling Mexicans and the magnifiscent display from their keeper. Ochoa made some truly fantastic saves with that header the save of the tournament so far. Great reflexes. They do not have a true forward and their midfield lacks creativity. Luis Gustavo and Paulinho just don't cut it. Paulinho had a horrible season in Tottenham and he looks a shadow from the player that impressed in the Confederations Cup last year. He looks short of confidence and that's a pitty because he is a good box to box player. Oscar was shackled too and his diminuitive size did not help him. Fred was isolated and replaced by Jo. It's hard to imagine a side that boasted Ronaldo and Pele with Jo and Fred as their main forwards. They need to step it up or a team with more clinical finishing and counter-attacking football such as the dutch will tear them to pieces.
Mexico deserves credit for their composed performance. They defended well, had their keeper in a fantastic day and they even launched some great attacks in the second half when they dominated proceedings. They are still in pole position to qualify but they have to face a tough test in the next game. For a scoreless draw it was an entertaining match that suited both parties.
Croatia - Cameroon (4-0):
This is where the fun starts. Croatia looked strong. The decider with Mexico will be of great interest! They were handed an easy task as the ridiculous "team" of Cameroon are set to go home, probably without scoring a single goal. I have talked about Croatia, i liked their tactics and their finishing was incisive. Cameroon is a joy to behold. Apart from their early pre-WC antics that i talked about in the last article this time they took it to the next level. Song got a red card for elbowing Mandzukic, Assou-Ekotto headbutted his own teammate who looked at him with disbelief and the result was a one sided match that ended 4-0. GG Cameroon.
He is lucky the referee did not notice the incident..
Chile - Spain (2-0): Something that happened 3 times in the last 4 versions of the World Cup happened again. The defending world champions crashed at the group stage! France in 2002, Italy in 2010 and now Spain. Predictable boring team in need of rethinking and rebuilding. For me it's better that the team endured such a shock, because a big jolt was needed to wake up players that won it all and lost their hunger and their passion, as Xabi Alonso admitted. They still have an excellent crop of players, both experienced and young that can maintain the high standards of the Spanish National Team.
Congratulations to Chile, who had a clear gameplan and hit Spain with potency and effectiveness. Alexis was once more great and the scoreline is deserved. Compact team with great fighting spirit built around Vidal and Alexis. Great defending placement and solidity. An entertaining team to watch.
Spain should drop Casillas as he was horrible vs Netherlands and was atrocious vs Chile. Diego Costa threw a great chance away and i wonder why he was picked ahead of Llorente or even Negredo. I saw only Iniesta trying to conjure some magic but he cannot win it alone. The usual monotonous passing with so much possession that leads to nothing in the final third. Toothless Spain. And Busquets man, seriously how can you miss that? Torres needs no introduction. A team that swaps the center forward for Torres is desperate. Plus the look on his face makes me sad and depressed.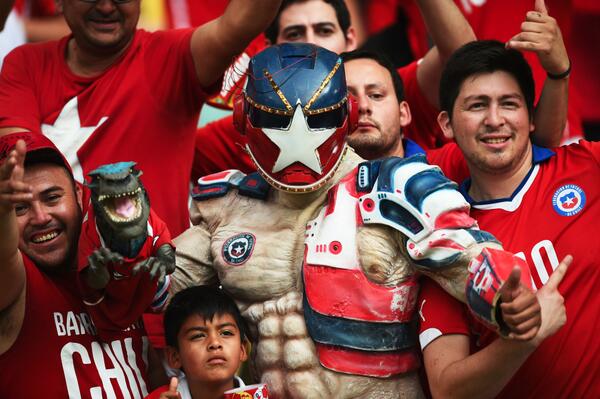 Fans of the World Cup deserve their own post!
Australia - Netherlands (2-3): Another entertaining match from the Dutch. Australia played some nice football and maybe deserved something from this game. And what a goal from Cahill! Incredible volley with him saying that he just had to hit it.
It's a bird, it's a dolphin, it's....Robin van Persie!
I saw only the highlights but Robin van Dolphin and Robben saved the day with a nice goal from Memphis too. They will progress far as it seems but they look leaky defensively. But who doesn't in this tournament so far? They do look like last 4-8 team. Australia is out of the competition as Chile and Netherlands have 6 points so they will enjoy the last game vs Spain with no pressure.
What a great strike! Youtube it!
Colombia - Ivory Coast (2-1): A match that i didn't see apart from the goals so i cannot comment on it. Colombia did the job progressing first in the group. Two quick-fire goals followed by a goal from the Elephants secured the win. Condolences to the Toure brothers for the death of their brother at the young age of 28.
Greece - Japan (0-0): A boring draw. I only saw the highlights due to the late hour of the kick-off but i did not miss something spectacular. The Greeks showed passion this time at least and they got the best possible outcome for a team playing with 10 men from the 38th minute due to the stupidity of Kostas Katsouranis. We had little chances and the Japanese actually had some nice moments and dominated possession but they could not find the winning goal. I liked how the Fernando Santos wanted something more from the game. He is leaving after the WC so why would he care? Now to progress we need a win against Ivory Coast, a result that looks plausible and a helping hand from Colombia to beat Japan. Any team that goes in the next round will be eliminated though, they do not have what it takes.
Pop-eye Maniatis.
Group D
Italy - Costa Rica (0-1): Another great match, or better say, a great display of heart and technique from the brave Costa Rica. Controversy ensued, as the officials showed favoritism towards Italy with a CRYSTAL clear penalty on Joel Campbell, but the result is fair and deserved. Following their hard-fought victory against England, Italy were flying high and underestimated their opponents with Balotelli saying that the english queen should kiss his...cheek if they beat Costa Rica. He went on to miss 2 great chances with a fantastic delivery by Andrea Pirlo, who was shackled throughout the game. Balotelli himself was closed down by 2-3 players all the time and in the second half i don't think the italians mustered a single shot on goal. Right after the controversy of the penalty shout, Costa Rica scored and they won the match. Funny how after the game 7 of it's players had a doping control while only 2 were checked from the italians...One team will go out in the next match and it won't be Costa Rica...
Uruguay - England (2-1): When Luis Suarez does not bite people, he is one of the best strikers around. He put sorry England to the sword and send them packing like the arrogant fools they are. Gerrard made a fantastic assist to his Liverpool teammate too. Rooney scored after a decade or so in the World Cup and failed to make his mark. Sturridge was great and his vital contribution ended in the goal for England. Uruguay did what they had to do and now they are up for a showdown with Italy in the last game. Winner takes all. Fantastic finishing by a half-fit Suarez for both goals and a nice display of humanity and passion during his celebration with his fitness coach. Lastly, respect to Alvaro Pereira for his dedication and pathos shown after his concussion. He kept playing when he shouldn't and completed the match. A big bravo.
Group E
Switzerland vs France (2-5): Breathtaking display from France. One-touch football, easy on the eye, great finishing, solid defensive work despite conceding 2 goals. Promising, a team that can make the semi's! Also congratulations to the Swiss for their effort, as even after being 5 goals down they kept trying and they managed to score twice. Benzema and Matuidi looked great, as well as Valbuena and Pogba after coming on. I expect to see some great things from this team, but let's see how they fare against the big boys in the next rounds.
Honduras - Ecuador (1-2): I did not see this game as it was of no interest to me, but Honduras scored in the 31st minute, Ecuador answered 3 minutes later and they completed the turnaround in the 65th minute. They will progress to the next round if they beat france or they draw and Switzerland fails to beat Honduras. I expect them to pack their things after the next game.
Group F
Bosnia - Nigeria (0-1): A surprising result given both teams displays in the first game. I did not watch any of it so i cannot comment. Nigeria plays with Argentina now and they look set to qualify.
Iran - Argentina (0-1): Another match were we had controversy with a valid penalty shout not given, this was a repeat of Italy vs Costa Rica until Messi who was virtually absent scored in the 91st minute with a fantastic strike. He did his trademark cut inside from the right and fired a curling shot in the top right corner. Iran were composed and deserved a draw for their effort and chances, let alone the penalty shout. They had some great chances and in the second half they even dominated for the first 20 minutes until Lavezzi's introduction, a fact that makes me wonder why he was not picked in the starting line up again. The brave Iranians exposed Argentina defensively and showed their weakness to defend set-pieces and high balls in the area. They need to improve or they will go out. Messi was walking and trying to take on 2-3 defenders at the same time.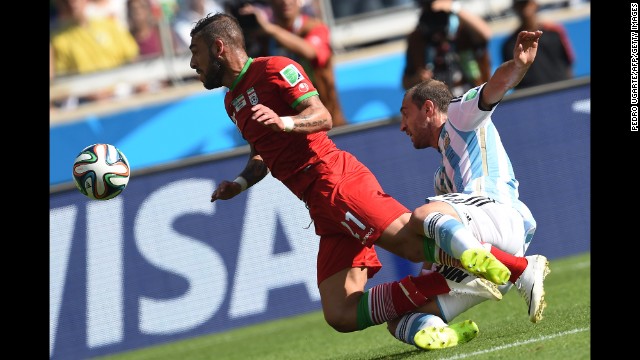 It looks clear to me..
Group G
Germany - Ghana (2-2): Credit to Ghana for their battling display. They were down one goal after Goetze scored but replied with 2 goals of their own to turn the tables until Klose made an immediate impact after coming on. He scored and is now joint top scorer in the World Cup with the legendary Ronaldo 9 with 15 goals. He will have a chance to be top in the next games. Germany faulter at the big stage lately and this draw shows their weakness. They will progress but they will have to tighten up at the back and have a clear game plan. A vital showdown with the USA remains.
Portugal - USA: A game that kicks off today, will determine who will go through the next round. If the USA win they are virtually in the next round and Portugal will go home. If Portugal wins, we have a very dramatic showdown in store for the last matchday! The americans are a tough team and Portugal average unless Ronaldo carries them forward.
Belgium - Russia: A match that is in the 30th minute as i type this with the scores locked at 0-0. A tricky group with Belgium on 3 points, Russia and S.Korea on 1 point and Algeria on 0 points. Winner takes all.
S.Korea - Algeria: Same as above. The last match of the first round along with Portugal - USA and actually a match and a group that does not interest me much.
That was it so far from the stadiums of Brazil, i m not sure if i will make another article about the third matchday but most likely see you in the round of 16!