I was reading today my usual book about success and how to attain it. I was in the chapter that required you to master the art of accurate thinking.
It mostly involves creative thought, that can slowly flourish as you gain experience and learn from other successful people. It also has to do with processing information to valuable and worthless, relevant and irrelevant. You can break down everything like this and support it with facts and logic, so you always have a better judgement than most people instead of acting rationally and expecting sheer like or hunches to propel you to success.
Then i came home, fired up my favorite troll-comment ridden website,
Goal.com
and started reading the football news on the build up to the highly anticipated World Cup 2014 in Brazil that starts in less than a week.
Behold on the first page, on the A-list "Breaking" news: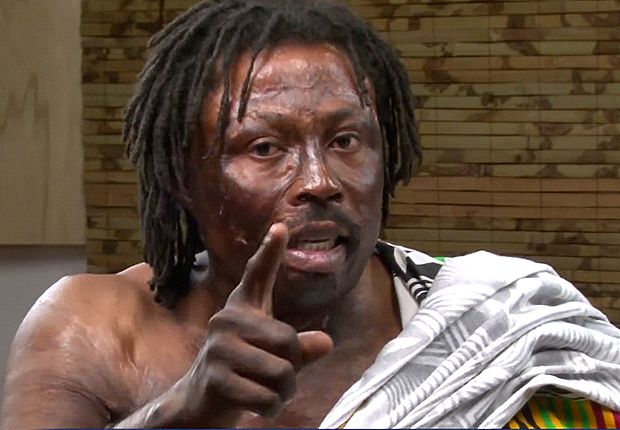 Don't mess with dem juju powers?
Oh yes. Let's throw some quotes from the Witch Doctor from Ghana:

"I am very serious about it. Last week, I went around looking for four dogs and I got them to be used in manufacturing a special spirit called 'Kahwiri Kapam'.

"I said it four months ago that I will work on Cristiano Ronaldo and rule him out of the World Cup or at least prevent him from playing against Ghana and the best thing I can do is to keep him out though injury.
I really liked the part about the four dogs and using them to manufacture....oh wait? What the...? What did he do to those poor souls? He did not specify it.
With the power of cuteness, i urge you to cause CR7...TENDONITIS!
Which brings me back to the latest entry in my book. Accurate thinking. Can you believe that there are actually people that think this is true? It reminds me when Ronaldo snubbed Paris Hilton and she allegedly hired a witch doctor to injure him for months.
So how do we tackle this? Let's break it down to facts, plausible, myths, logical and illogical.
Mythbusting
4 dogs and a ritual cause simultaneous injuries to Cristiano Ronaldo.
It can go from one area to another, first his thighs, then his leg, etc etc.
The doctor cannot force him out entirely from the World Cup, only injure him.
Plausible explanations
He has played 57 games from the start of the 2013/2014 season and around 60 games for the last 3 seasons in all competitions for club and country.
No man is a machine. People get injured even if they have the best overall fitness, like Ronaldo does. People like Messi, Ibrahimovic, leg breaks, Ribery, the consecutive games have taken their toll on them.
He had a minor injury but his thirst for winning prevailed, wanting to play every game he could. He aggravated that injury and the result is this.
Would this fraud doctor come out and say that he was working to injure Ronaldo for the past 4 months if he was healthy?
Why didn't he use his voodoo to make Ghana perform better and overcome Portugal, hell win the World Cup?
Clear use of Ronaldo's name for fame and attention.
Crappy journalism as every article about the 2 best players in the world attracts massive attention and readers.
These are some of the reasons that one could find. Don't get me wrong, i think spirituality and faith can make a person perform great tasks and find superhuman strength to make it through difficulties. But even if that was true, what horrible person wishes plague and injury to another human? Who wouldn't want to see Ronaldo or Zlatan perform in Brazil? You have to read the comments below the article, people wishing death and decay, calling each other names, talking about monkeys and bananas, racistic comments, quotes from the Quran that seem to protect from any evil urging you to convert to Islam, people saying the witch doctor should cure his face first, that he looks like Marcelo's or Adebayor's father...
I will follow up with a small personal memory from November 2012 when i broke up with my girlfriend after 5 years.
I learned that she did some immoral things that i am not going to name, that shook the foundations of our relationship. The emotional hit and trauma was so hard i broke down and ended for a few days in the hospital, losing 16 pounds in 21 days. I could not see that this relationship was ending or that it had no future. I made up incredible scenarios in my head, tried to formulate plots and ways to travel in one day 500km to see her and make things right, then come back, wasting money and going nowhere in the end. I slandered and i lied. A lot. It destroyed my chances. She even told me after that if i had no such attitude after we broke up that we may have had a chance again. Now it's for the best, but i could have acted so much differently. I hope you get my point.
Stop slandering your fellow man. I am by all means a Messi fan but i respect Ronaldo and i wish both of them the best. I am lucky to witness players of such quality in the same generation. You will never achieve success if you slander, offend and destroy instead of seeking to build.
Build upon kindness and honesty, it might set you back in your beginning, but keep faith, work towards your chief aim in life and you shall be rewarded in the future. Remember the law of increasing returns? Do not change your principles just because you have enemies or people badmouthing you. When you do something good or great, enemies and rumours sprout like mushrooms and they circulate fast like a virus. A woman a met last week said "You slander me? You admire me".
That's it for now. Oh and humbalaaaa, humbalaaa, humbalaaaa!
"Someone call for de docter?"